Vincenc Strouhal (1850 – 1922) was a Czech physicist specializing in experimental physics. He was one of the founders of the Physics department at Charles University. The Strouhal number is named after him.
Birthday: April 10, 1850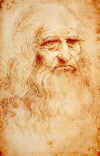 Leonardo da Vinci (1452 – 1519) made the first recorded observation of the vortex shedding phenomenon over 400 years ago. He observed the formation of vortex swirls downstream of a rock in a stream of water. He was born on April 15, 1452.
Birthday: April 15, 1452